Usine à vendre - Factory for sale - Fábrica en venta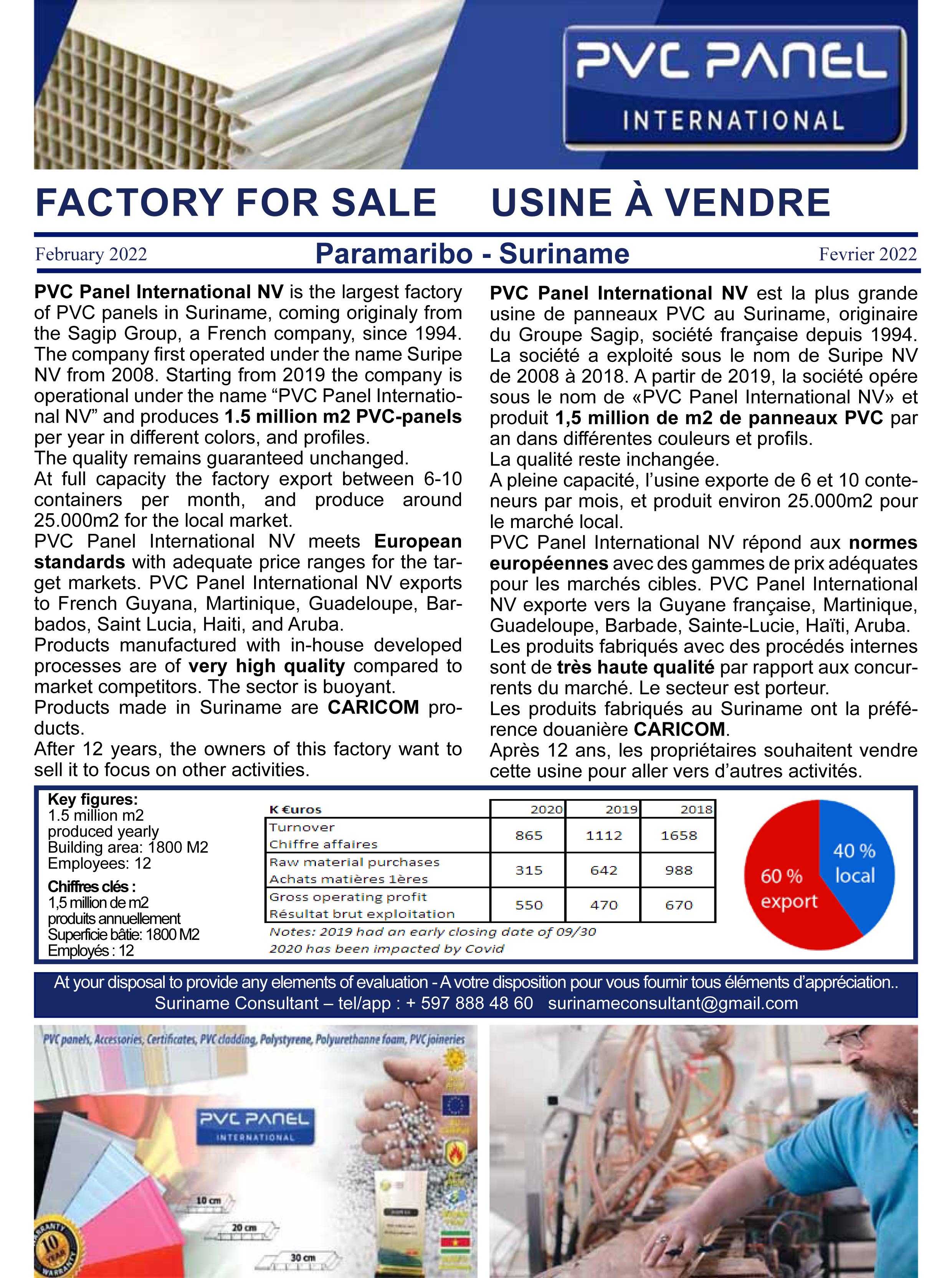 L'usine, anciennement Sagip, au Suriname, aujourd'hui PVC Panels a développé et produit actuellement 1,5 million de m2 par an lattes de plafond. 60% de ses ventes sont exportées vers les Caraïbes. Basé au Suriname, l'un de ses meilleurs atouts est de pouvoir vendre sur le marché Caricom avec des droits de douane préférentiels.
L'entreprise appartient à une famille qui souhaite maintenant vendre. La mission de Suriname Consultant est de rechercher un acheteur pour PVC Panels.
---------------------------------------------------
The plant, formerly Sagip, in Suriname, now PVC Panels has developed and currently produces 1.5 million m2 annually ceiling slats. 60% of its sales are exported to the Caribbean. Based in Suriname, one of its best assets is to be able to sell in the Caricom market with preferential customs duties.
The business is owned by a family who now want to sell. Suriname Consultant's mission is to seek a buyer for PVC Panels.
---------------------------------------------------
La fábrica, antes Sagip, en Surinam, hoy PVC Panels ha desarrollado y actualmente produce 1,5 millones de m2 por año de lamas de techo. El 60% de sus ventas se exportan al Caribe. Con sede en Surinam, uno de sus mejores activos es poder vender en el mercado de Caricom con derechos de aduana preferenciales.
El negocio es propiedad de una familia que ahora quiere vender. La misión de Suriname Consultant es encontrar un comprador para PVC Panels.